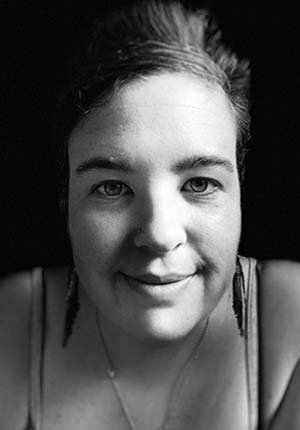 Amy Mermaid Isakov is an innovative dreamer, passionate about connection, spirituality, music, ritual arts, and how the Divine can manifest in all its forms. Having left the traditional education path, she has studied in-depth with shamans, bodyworkers, evolutionary thought leaders and green builders since 2001. While working at The Shift Network, she hosted and managed all of don Oscar's courses, while having the privilege to host and learn from many of the world's leading mystics, dreamers and visionaries. She is a Pachakuti Mesa Sanctioned Teacher, writer, singer and mother — among other things — and looks forward to helping as many people as possible return to the truth of interconnection in this time of dire beauty. She regularly leads gatherings in her region and beyond, subscribing to the truth she recognizes in Thich Nhat Hanh's teaching "The next buddha will be a sangha." Amy resides in Pennsylvania.

"I am beyond words thankful to have Amy as my teacher. She has made me believe in the goodness and beauty of life on a whole, deeper level. She does everything from her heart, and happily shares the knowledge she has of this lineage. Amy is truly changing this world for the highest good, through her teaching both in and out of ceremony."
Conversation with don Oscar
PMT Apprenticeship Trainings + Events
Join our shamanic planetary tribe to energetically connect in soul presence to bring healing to our Mother Earth and all her children.
...
No upcoming events could be found that match your search. Please check again soon!
Writers Forum Contributions
Amy Mermaid

Walking down did have its easier aspects, and I felt some hope that I would be able to ride a horse for part of it. Going down, I could lean into gravity rather than fight it which meant that…


Amy Isakov is a wise and delightful teacher with a deep understanding of the Pachakuti Mesa Tradition cosmovision. She creates a loving container for growth.
Amy Isakov is a powerful and passionate shamanic teacher. She meets each person where they are to ensure they receive what they need to make the most of their experience. It was a gathering of magic, self-discovery, and collective growth.
Amy's knowledge of the Pachakuti Mesa Tradition is infinite. Her passion, ability to inspire, and endless patience make her a treasure and effective apprenticeship mentor.
Amy is a splendid example of compassionate spiritual wisdom. She is a wonderful disseminator of this powerful tradition.
I have learned so much this weekend--about the tradition, myself, the earth, spirit, the universe, and how they all connect. Amy has been an amazing guiding light, teacher and space holder. I am blown away by the amount of healing I have felt in just this one weekend. I am leaving almost as a "new person," as my authentic self, free to express and experience. This weekend has been absolutely amazing. It is what I've been searching for so long, without necessarily even knowing it. Thank you.
I really enjoyed my first weekend with Amy and my new tribe members. More than ever do I feel like the earth, and the universe has my back as I do them. I'm looking forward to the process of learning the mesa tradition. I. can't wait until our next session.
Amy's mastery and embodiment of this tradition come through her with exquisite fluency. Her presence is animated by her love, and it is palpable. She is both funny and holy in one same breath. I am so grateful to have found her as my teacher and guide into deeper healing.
Amy is the perfect teacher in every way--knowledgeable, fun, and deeply authentic. I trust her in every way and lean in every time she speaks.
I loved being in Amy's space. Her passion for PMT is apparent in all she says and does. The material was presented in an easy-to-follow way and with Amy's unique magic. In today's crazy world, this practice gives peace and balance.
I cannot express my appreciation for Amy enough. She holds space in such a healing, expansive, supportive and joyful way - I feel a deep nourishing & flowering every time we meet. These weekends feel like being in the home I didn't know I was missing.