 Willka Hampiq Intermediate Apprenticeship
Based on the teachings of don Oscar Miro Quesada, Willka Hampiq: Peruvian Energy Medicine for the Modern World is a path of deep healing service in re-Membering ourselves as Shining Ones on the planet. It includes intensive practice in the ritual use of the vibrational frequencies of earth, water, air, fire, and ether to harmonize challenges within the physical, emotional, spiritual, mental, and soul bodies.
Building off your foundational relationship with the five elements, the Wilka Hampiq (Sacred Medicine Spirit) Apprenticeship is an opportunity to expand your capacity as a healer for yourself, your community, and the planet. By forming a personal and active alliance with the tutelary animals and energetic forces of each direction of the Pachakuti Mesa, you will greatly elevate your capacity to deliver energetic healing, as a hollow bone, to those you serve.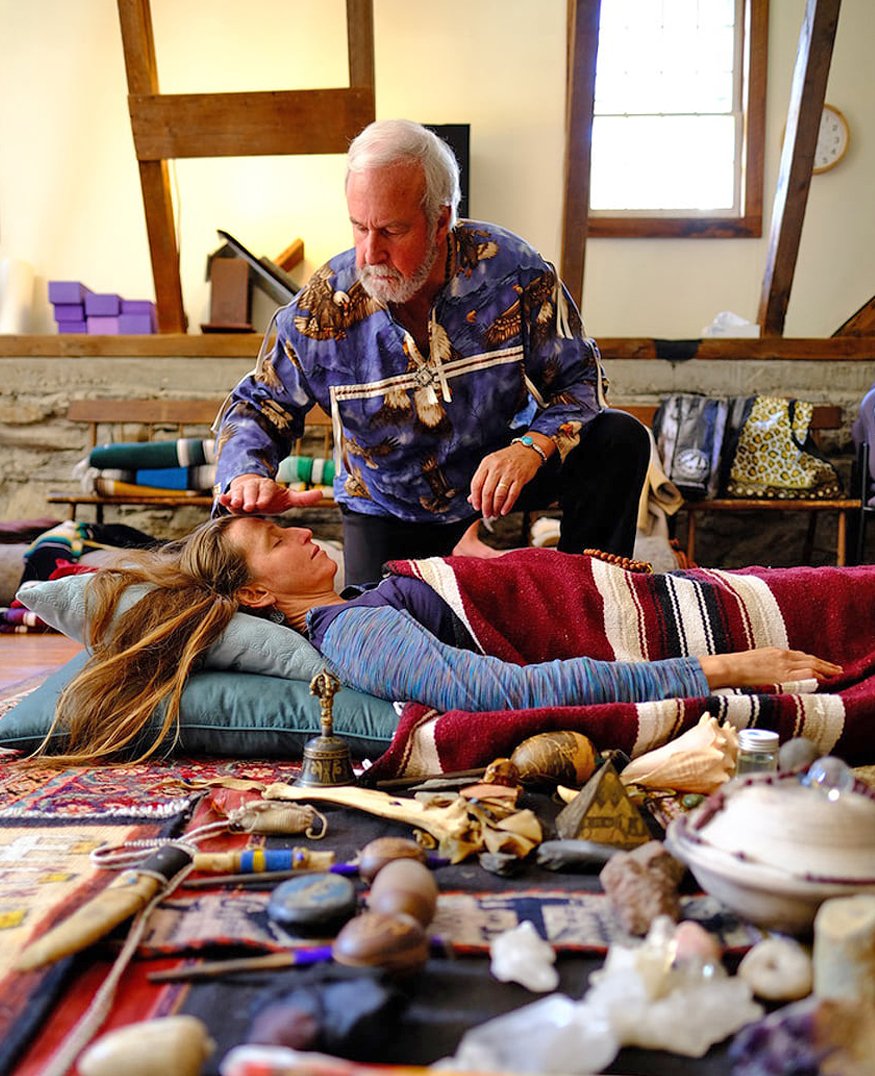 "Shamanism is the oldest profession on planet earth because it is the first gesture, the first altruistic offering of selfless caring to another, making the other as important as one's self. That selfless dimension of service is the true medicine of the Pachakuti Mesa Tradition."
Benefits of the Apprenticeship
Who is This Apprenticeship For?
Prerequisite: two (2) or more online or in-person courses with don Oscar and/or the PMT Foundational Apprenticeship
Certification option: The Willka Hampiq intermediate level apprenticeship includes the option to achieve an Energy Healer certification in the PMT
Apprenticeship Description
Together with deepening your integrative wisdom and ritual practice attained through the PMT Foundational Apprenticeship you shall:
You shall be instructed in ceremonially activating and delivering the following ancestral shamanic healing energies known to Peruvian curanderismo:
In-Person Willka Hampiq Apprenticeships with Sanctioned Teachers
No upcoming events could be found that match your search. Please check again soon!

"Willka Hampiq is proving to be a welcome extension of the original Foundational Apprenticeship. My understanding, personal healing journey, and shamanic skills and identity have already been deepened considerably."
The Willka Hampiq apprenticeship offered me a life changing, and greatly deepened relationship with the energies of the tutelary animals of the Pachakuti Mesa Tradition. I am so grateful.
I am entirely transformed as a person after finishing the PMT foundational apprenticeship. Connecting to deep history and lineage has healed the parts of me that were disconnected, distracted, lonely, or broken. This apprenticeship has given me words for truths that I have always instinctively KNOWN and given me a community that understands the world in the same way. It has given me practical tools to ground, release and seek guidance and connection. My path of service is clear, and I feel empowered to follow it with joy, wisdom, and support.
The PMT apprenticeship has been a blessing in helping me navigate these turbulent times and offer clarity regarding my future path. The PMT path provides an avenue to channel my love for the earth and its inhabitants in a loving and constructive way.
The teachings and wisdom of the Pachakuti Mesa Tradition allow the fullness of life to be experienced. It is a privilege and honor for these life-changing, life-improving connections to be offered to our community. The safe space that created healing to occur is a blessing.
Experiencing the PMT with loving souls and wonderful teachers has enriched my life in ways I could not have imagined. I am honored and grateful to share this medicine.
PMT has provided me a comforting, ever-changing, and expansive but anchored container for my spiritual life and real-world existence for the first time in my life. It has allowed me to experience the world around me as animate, playful, poetic. It helps me not judge things/events as good or bad, but to glean more information and thus appreciate it all. It is an enormous gift to go deeper into this work.
I experienced profound shifts after participating in the PMT apprenticeship. The PMT is the only tradition that consistently manifests transformations in my life. The fullness and magic I feel in these circles is unparalleled and real.
The Pachakuti Mesa Tradition provides the template for living joyously in this world and a formula that allows one to manage the suffering in life successfully.
This apprenticeship series has been a life-transforming experience. The depth and illumination are beyond words. I am discovering my true Self and the work I have come here to do.
This apprenticeship provides the framework to deepen my relationship with myself and my spirit. From this place, I feel better equipped to live my life in a more balanced way, and to serve others with a more loving and compassionate heart. I am eternally grateful for this opportunity.
The PMT opened me in a way that I have not experienced in the past. Even with a background in psychology, education, metaphysics, catholic education, modern spiritualism, basic shamanic, and spiritual study in Hinduism and Buddhism. But the PMT gathers everything together in an understanding that supersedes my past experiences. If you want to be deeply connected to a path that includes rituals that deepen your understanding of who you are and what you have to offer to the world, I would highly recommend the PMT program. I cannot express how much the tradition has done to open me as a healer in the world. PMT is a broad tradition that I will continue to study and practice for a lifetime.
A very detailed, informative, packed presentation of the Pachakuti Mesa Tradition cosmology made understandable and pertinent to our modern times.
I highly recommend this apprenticeship to anyone, beginner or advanced, wishing to connect to a living lineage of shamanic arts. This course is perfectly structured and incorporates the perfect amount of intellect.
The PMT apprenticeship has forever changed my life. The community is an invaluable blessing to my life. The infinite love of the universe shown to me through my work at my mesa is powerful beyond words.
This apprenticeship is magical. I feel so much love for this practice, my community hoop, and cultivating relationships with the unseen realms.
The deeper the Pachakuti Mesa Tradition pulls me into intimate relations, my life has become more heart-centered.
The apprenticeship gave me the community I've been seeking. Sharing, learning, and growing with a group of fellow seekers who are on the path of the healer was extremely powerful, especially in the context of an intact lineage.
The program is what the human spirit needs. With these teachings, we can heal together, forming a unique bond that cannot be broken. In using the guidance of the mesa, one can transmute and transcend, remembering who we truly are.
The apprenticeship was stimulating, nurturing, and energizing. It encouraged me to widen my inquiry into quantum physics as a way to understand these ancient healing techniques.