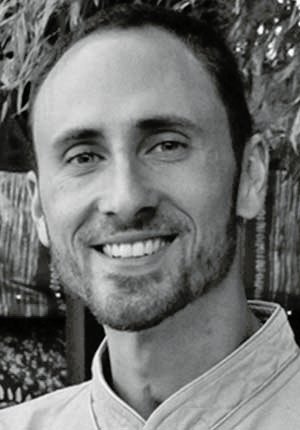 Madhu Anziani is a sound healer extraordinaire who learned from being a tetraplegic the power sound and energy have to restore one's body to wholeness. His story is featured in the book Energy Medicine by Jill Blakeway. Madhu has studied Jazz and World Music and is certified in Sound, Voice, and Music Healing from CIIS. He is a regular lecturer at San Francisco State University and offers a specialized 6-part program entitled The Path of Liberation Through Vibration, a curriculum of techniques and guidance for opening the healing power of the voice. He is experienced in Sanskrit, Tibetan, and Hebrew chanting as well as the system of Wisdom Healing (Zhineng) Chi Gong. Being in service to the wisdom of the Pachakuti Mesa Tradition™ is a true blessing and a natural continuation of his spiritual vocation. Madhu resides in California.

"The depth of Madhu's knowledge and capacity to transmit the profound teachings and wisdom of the Pachakuti Mesa Tradition with intrinsic timing and refinement is a true gift to witness."
Conversation with don Oscar
PMT Apprenticeship Trainings + Events
No upcoming events could be found that match your search. Please check again soon!


Madhu is an excellent teacher. He creates a safe and sacred space for this profound work with the Pachakuti Mesa Tradition.
The apprenticeship offered by Madhu is a very soul-nourishing experience. I acquired valuable tools for developing my ceremonial skills and sacred space holding abilities.
The depth of Madhu's knowledge and capacity to transmit the profound teachings and wisdom of the Pachakuti Mesa Tradition with intrinsic timing and refinement is a true gift to witness. He created a sacred container with each word, gesture, movement, song, and prayer from beginning to close. Madhu masterfully transmitted the wisdom of this teaching as though he has been doing this for many, many moons and thousands of lifetimes. I received his teachings with an open heart because the transmissions were clear and being directed from the heart of an "old soul/ master teacher" who is deeply committed to his spiritual practice and traditions. Madhu has been breathing, dreaming, walking, living this truth from his heart and soul in preparation for this moment in time as he steps forward into his dharma on this path as a sanctioned Pachakuti Mesa Tradition teacher. Aho!
Madhu created a unified field for us to connect as community with the Pachakuti Mesa Tradition lineage. His grounded presence made the work so assessable and available to journey deep into our shadow, feeling held, witnessed, and loved. The merging of Madhu's medicine of music is a powerful and unique addition to the apprenticeship.
Madhu is an incredibly gifted and wise-beyond-his-years individual. You can sense his deep desire to live in alignment with Source/Truth and his consideration and care for every participant's well-being. His profound healing journey provides him the unique and wise perspective and gifts that he's able and so eager to share for the benefit of all.
Madhu is an exceptional wisdom keeper and guide, walking the middle way between strong, directed energy and intuitively guided teaching. It is rare to find a teacher with such vast lineages that are synthesized to give a vast understanding of universal truths. It makes for a container of vast depth and fluidity in exploring our relationship and understanding of this work. It was a potent and nourishing weekend that opened the way for learning, revelation, and healing.
Madhu is strong in his mission as a teacher, holding us each in such care and lovingness. His capacity to see what each of us needs and the direction our collective hoop takes is incredible. I feel held, seen, and empowered as a student. This lineage and teaching continue to unfold in powerful ways for me, like something that has always been there & yet continues to expand the medicine I carry and receive.
I feel so blessed to have Madhu as my PMT teacher/mentor. His innate wisdom and his patience, and compassion help to create a safe and respectful space. I feel so nurtured by these powerful, soul-activating experiences over this weekend. Madhu is such a gifted ceremonialist, sound healer, and I feel honored to be his ally in this life ceremony.
Madhu is a precious gift and blessing to this world, gifted in musical, healing, and intuitive abilities. His calm and clear energy and capacity to gracefully hold sacred ceremonial space is such a blessing to behold and be a part of.
Madhu holds this hoop, and collective group poqpo creates a deep sense of family and community support. His dedication to our learning, spiritual growth, and community connection is rare in a training of this nature. There is such a feeling of support and that anything we need to thrive in this path will be provided, if possible. Thank you, Madhu, and to this lineage and all the Unseen beings and guides that support this work.
Madhu is one of the wisest, humble and beautiful souls I've ever met, and I am so grateful to have been guided by him through this training.
Alex and Madhu were a pleasure to be with for two days learning about the PMT. The understanding and presentation are awe-inspiring. A great amount of care and compassion was experienced by myself as I was having a hard time. Alex and Madhu took the time from their busy schedule to attend to me, and I'm very appreciative.
I experienced two brothers whom I love and respect, teach me about the Pachakuti Mesa Tradition and initiated me into the lineage. I found myself understand and resonate heartfully with the mesa technology/concepts. I am now excited to start practicing and adding my flavors of technology to the mesa while bringing integrity with the tradition. I felt Alex and Madhu had great collaboration skills and unified polarity, allowing each other to take up space in their unique way.