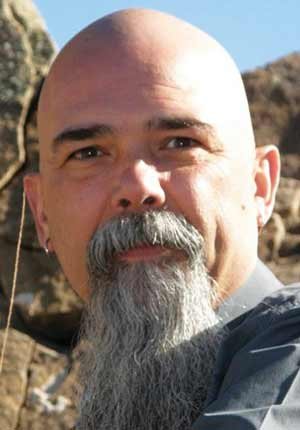 Gerald Richard walks the path of the Wounded Healer, utilizing painful experiences as opportunities for growth. Gerald practiced as a nurse for 27 years, became a Reiki practitioner, minister, and hypnotherapist. He also learned Native American ways of walking with a Sacred Pipe, pouring Sweat Lodge and completing two vision quests in the ways of Marcellus Bear Heart Williams of the Muskogee Creek Nation, passed down by Mike Three Bears Andrews. Gerald also did strict sadhana with Swami Kaleshwar, learning healing methods within this Shakti Path. As a ceremonialist, healer, mesa carrier and Sanctioned Teacher of the Pachakuti Mesa Tradition, his goal is to help others Re-Member their most authentic selves by experiencing the power and beauty of these teachings and processes as a means to their personal health and wholeness. Gerald's healing practice includes ceremonial offerings, workshops, guest teachers and retreats, as well as providing a sanctuary for those in need, with a focus on HIV+ youth-in-crisis within the Q'enti Wasi Wellness Center. Gerald resides in New Mexico.
PMT Apprenticeship Trainings + Events
No upcoming events could be found that match your search. Please check again soon!
Conversation with don Oscar
In this conversation with don Oscar, Gerald shares what initially drew him to the  Pachakuti Mesa Tradition Shamanic Arts,
and the ways in which his life has been significantly changed, evolved and transformed as a result of becoming a Sanctioned Teacher.


Immersion into the deeper workings of the Pachakuti Mesa tradition has been both serious and fun under the guidance of Gerald. I perceived a dramatic shift in my consciousness, depth and breadth of comprehension, and my embrace of the teachings this weekend. The balance of power portion of the in-person workshop has helped me recognize how the personal work I have been doing flows smoothly and is being supported through this immersive process. Eternal gratitude to Gerald for his support and tutelage!
This was a sincere, ehtusiastic, and respectful initiation to a beautiful tradition. Gerald is fully invested and is aware of the value of what has been entrusted to him. He loves his work, and is skilled at holding space with love. He shows real interest in his students' insights, and celebrates their discoveries. I am looking forward to continuing this journey together.
The teachings and wisdom of the Pachakuti Mesa Tradition allow the fullness of life to be experienced. It is a privilege and honor for these life changing, life improving connections to be offered to our community. The safe space created for healing to occur is a blessing.
The PMT apprenticeship has been a blessing in helping me navigate these turbulent times and offer clarity regarding my future path. The PMT path is providing an avenue to channel my love for the earth and its inhabitants in a loving and constructive way.
I am transformed completely as a person after finishing an apprenticeship within the Pachakuti Mesa tradition. Connecting to deep history and lineage has healed the parts of me that were disconnected, distracted, lonely or broken. This apprenticeship has given me words for truths that I have always instinctively KNOWN and given me a community of family that understand the world in the same way. It has given me practical tools to ground, release and seek guidance and connection. My path to service is clear now, and I now feel empowered to follow it with joy, wisdom and support.
I am constantly amazed at the power of the expanding insights and transformative powers rituals and ceremonies. I'm excited to incorporate these new teachings into my practice as well as learn more to come!