Standing in Georgia O'Keefe's art studio in Abiquiu, New Mexico, I was in awe at the beauty she painted. O'Keefe's New Mexico landscapes were part of my everyday life growing up. Her paintings were on my mother's posters, calendars and big open books on the coffee table. From O'Keefe's studio you can see where she painted cottonwood trees in the valley below. In the distance, you can see where she painted The White Place in Sun at Chama Blanca. To my surprise, artfully placed on her studio windowsill, still rests a collection of beautiful stones – just as she left them in 1984.
O'Keefe was known for her love of stones. In her home and studio, you can see where she placed them on her thick adobe window sills and on large flat stones outside (see the photo above taken outside her studio). Several different photographers took pictures of O'Keefe posed next to her stones and collecting them in various landscapes. My favorite is the one of her hand holding a large, smooth, black river rock. She also created large, powerful paintings of stones. My favorite artist, it seems, was deeply connected not only to the New Mexico landscape, but also to individual stones. Perhaps she was inspired not only by their beauty, but by their deeper energies.
If I take the time, I can usually tune into a stone's energy by holding it with my left hand (the receiving hand). Sometimes, my perception relates to the energy of the place in which the stone recently lived, such as a mountain or a beach. Sometimes I receive a feeling or an image from the stone. Often, I am gifted subtle supportive energy from the stone, especially if it was intentionally charged up with healing energy, for example, and is still holding that energy. The beauty of the stone and its feel in my hand are a large part of my experience with it.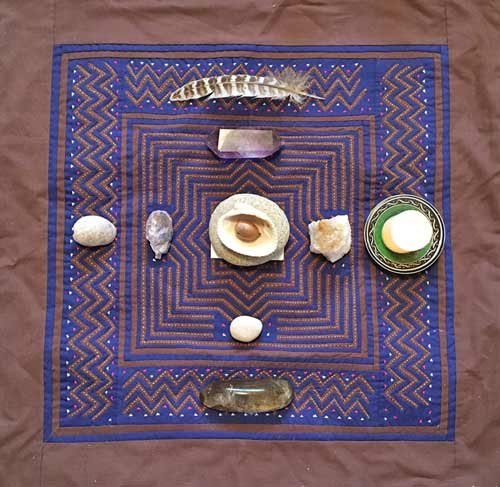 Recently, I journeyed to the spirit of a stone that caught my attention in a landscaped area at our vacation beach cottage (in the photo above). I saw with my mind's eye a mustardy yellow desert landscape. Large, continuous expanses of this stone lived under the surface. It also made some of the forms in the landscape. It was a dry, dusty, landscape. Today, this stone is one among many different kinds of large landscape rocks in our yard on the outer banks of North Carolina. During the journey it felt to me like it had a very ancient and extremely slow-moving energy. I felt that it wanted to be returned to where I found it and I received the message to "…slow…way…way…way…down." I thanked the stone and put it back in its place in the landscape area, serving our Earth Mother, Pachamama.
Stones can be teachers and allies in many ways. I ask them to serve in healing sessions by being with my client in their hand or on one of their body's energy centers. The stones are charged up with the energy of the session and the client can tune into that energy later on to bring themselves back into a balanced state.  I also use stones for divination, working with the stone in ordinary and non-ordinary reality to receive insights and messages for healing purposes.
In the Pachakuti Mesa Tradition (PMT), we ask stones (as well as crystals and other items) to serve as sacred objects, called artes. Each stone is specially selected (or, they select us) to serve a particular purpose in a specific location as part of our altar, or mesa, which is the living system for our work.
In my mesa in the photo above, you'll see a stone serving as the sacred center of my mesa (Mesarumi). This was one that my father found decades ago in the woods in our back yard and passed down to me. You can also see the small white stone that came to me to represent my primary totem animal.  As my mesa expands in meaning and in service, I know more stones will come to me to serve, each with its own special purpose.
Since visiting the home and studio of O'Keefe, I've become inspired to create paintings of stones from Lake Michigan. A number of them made their way into my pockets. A couple in particular caught my attention and we're getting acquainted through meditation and sketching (see the photo above). Eventually, I'll paint the perceptions they gift to me – inspired by one of my favorite painters: Georgia O'Keefe.
Chris Geith
Featured Contributor
Chris Geith is a spiritual artist. She leads guided meditations, drumming circles and ceremonies for healing the earth and each other. Using acrylics and digital painting techniques, she creates nature-inspired art and healing images for meditation.
Chris served as president of the National Association for Esoteric Healing and is a certified practitioner by the association. She is also certified in hypnotherapy by the Transformational School of Hypnotherapy, a state-certified school in Michigan. Chris is a shamanic practitioner and mesa carrier. Her teachers include Sandra Ingerman, don Oscar Miro-Quesada, Kate Durda, Stephanie Tighe, and Phyllis Clay. Chris holds a B.S. in Design, an MBA and a Ph.D. in Higher Education.