Testimonials: What Students are Saying
The Pachakuti Mesa Tradition apprenticeship has provided me the space to feel safe, look deeper in to my potential as a human and healer, and to connect to my local and global communities at a more compassionate and heart-centered level.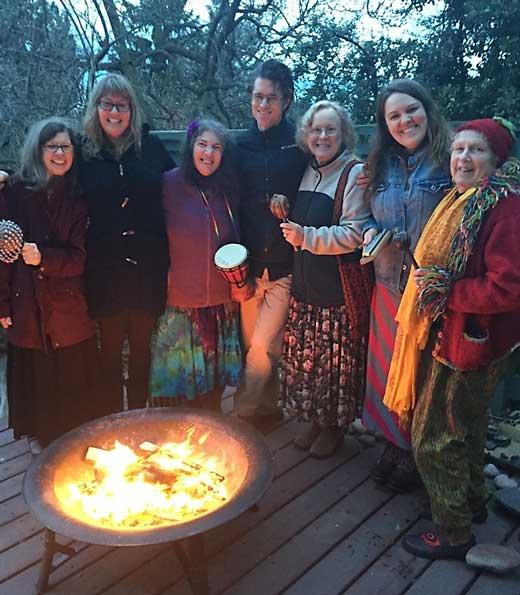 Nancy Beck is extremely well prepared in handling personality issues that arise in class participants. She is non-judgemental and caring to all. I appreciate learning under her leadership.
Read more about Nancy
Jnana Gowan is passionate and fully dedicated to her path as a teacher of the PMT. She is respectful and honoring of the PMT and takes her teaching seriously…but also with a twist of humor at times. She has a balanced and well rounded style that works!
I have taken professional development classes with many teachers and Cynthia Greer is by far one of the best Mentors that I have encountered. She creates a safe, encouraging and engaging environment for learning and transformation. I am inspired by the Pachakuti Mesa Tradition. This is exactly what I was searching for and a deep connection to life came alive through Cynthia's teachings.
Read more about Cynthia
From the very first weekend of PMT training my life changed profoundly. The subtle energies that come from having my own mesa have brought me a deeper awareness of my guides and helpers which in turn has brought more peace into my life. Judy Hoaglund is a fantastic instructor with a deep understanding of the history of PMT. Her teaching style is gentle and patient, yet powerful. I could not imagine being led through this journey by anyone else.
Read more about Judy
Gary Langston is the quintessential gentleman, healer, and guide. He intuits the needs of the group and sets up an alchemical, magical field for the participants to have the most glorious experience possible. We were allowed to go as deep as necessary, for our journey and healing intentions. The PMT Apprenticeship exceeded my expectations and laid a foundation for the next steps in my journey in life. I am grateful for this community.
Rev. Anna Lopez and Michelle Pauls are wonderful, caring teachers. My heart is full and I feel so immersed in and a part of the Pachakuti Mesa Tradition.
Ray Nobriga and Valerie de Magdalena hold the most exquisite, sweet, sacred space to not only receive the teachings, yet to be open to embody the wisdom from the lineage itself. The apprenticeship was deep, intimate, transformative and fun!
I need a whole new set of divine superlatives to use in describing my experiences over the weekend. I am a mesa carrier, but this was absolutely over the moon! Robin Harman's presence, wisdom, knowledge, compassion, humor and skill at making the mystical, magical realms so beautifully understandable is remarkable. Besides having a most incredible journey with my new animal ally, and new best friend the water snake!….she made me feel safe in a process that I had dreaded due to a past experience. I can't wait till next module and wish it was sooner! Filled with tremendous gratitude,
Thomas Mock facilitated a stellar Call to Heal weekend. Thomas created a safe container for people to show up and share courageously and lovingly. The community was an incredible group of people as well. He also administered some healings and made them valuable learning and teaching moments. I especially appreciated his sense of humor and celebration of human perfections and imperfections. Thomas is a sweet spirit who spreads joy along with the teachings! I'm grateful to have participated in this Call to Heal weekend!
I feel was a very high vibration and a deep sense of gratitude for all the effort Daniel Moler puts into preparing the class and materials. I can see it is a labor of Love and a life style. It was also interesting to see how the other participants have grown and changed from the last weekend. How they are becoming more open and confident. How some are healing. How their Mesas are evolving. This experience is truly life changing for everyone involved.
Read more about Daniel