Daniel Moler is a writer, artist, educator, and shamanic practitioner. Trained in multiple spiritual disciplines, Daniel uses the art of shamanic healing to help others during times of transition and transformation. In order to provide the most holistic healing environment, he works within a wide variety of modalities including energy healing, curanderismo, herbalism, Zen, and Hermetic alchemy via the Holy Qabalah. As a writer, he has published fiction and nonfiction works around the world in magazines, journals, gaming modules, and online, including: Positive Health Magazine, Cannabis Culture, The Tattooed Buddha, Sacred Hoop, Elephant Journal, and A Journal of Contemporary Shamanism. He is the author of two books, RED Mass and Machine Elves 101, as well as a contribution on San Pedro healing ceremonies in Ross Heaven's book Cactus of Mystery. You can read other works by Daniel at www.danielmoler.com.
Credentials:
PMT Teacher Sanctioned by don Oscar Miro-Quesada since 2011
Completed PMT Five Part Series in 2010
Holistic Energy Healing Training since 2007
MLA, Modern/Postmodern Theory, Baker University, 2006
BA, English, Art, Drury University, 1996
Author of fiction and non-fiction works
Recommended Reading:
One of the ways to get to know Daniel best is to delve into his favorite pastime: reading! Here is a list of some of Daniel's favorite books. Peruse and enjoy, try out one or two (or three!)
Lessons in Courage: Peruvian Shamanic Wisdom for Everyday Life
by Bonnie Glass-Coffin, PhD and don Oscar Miro-Quesada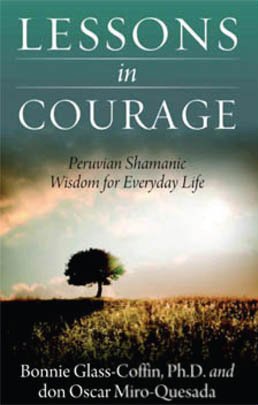 The true story of the lineage of the Pachakuti Mesa Tradition as told by don Oscar him, along with curanderismo expert Dr. Glass-Coffin. It is also an excellent primer for the basic concepts of mesa practice. This book is essential to a full understanding of the Peruvian shamanic arts through mesa practice.
Daimonic Reality: A Field Guide to the Otherworld
by Patrick Harpur
The most crucial book for understanding the world of the supernatural: how it behaves, why it behaves the way it does, and how we may interact with it/it may interact with us. It is a large work, but worth the study in order to function as a shamanic intermediary between this world and the Otherworld.
This Is It: and Other Essays on Zen and Spiritual Experience
by Alan Watts
A Zen approach to the awareness of cosmic consciousness. Watts is known for his thoughts on non-dogmatization, a breaking down the higher level Zen concepts into modern Western terms. Short, concise, and a great read to clear the mind when it gets too muddled with trying to "figure it all out."
Sorcery and Shamanism: Curanderos and Clients in Northern Peru
by Donald Joralemon and Douglas Sharon
Out of print and expensive, this book may not be easy to get but it is by far the best and most thorough account of the curandero lineage. An anthropological account, it is not a layman's read. This book provides a breakdown of curandero's mesas, practices, and philosophies.
Masters of the Living Energy: The Mystical World of the Q'ero in Peru
by Joan Parisi Wilcox
This book provides the Quechua side of the mesa practice, the descendants of the Incas. A fun read and easy to understand, it gives insight into the Quechua way of energy healing and their cosmological view of the Universe. This book will give a relay a deeper understanding of the dynamics of shamanic reciprocity.
Magic: Its Ritual, Power, and Purpose
by W.E. Butler
Less shamanic and stemming from the Western Mystery Tradition, this work is useful in the aspect of a psychic / technical analysis of ritual. It also succinctly covers ritual's effects on consciousness as well as definitive explanation of what true magic is.
Ritual: Power, Healing, and Community
by Malidoma Patrice Some'
Written by an African shaman, this is a more indigenous account of ritual and its purpose upon the psyche. This book also outlines the impact of ritual (or lack thereof) throughout the social and cultural aspects of humanity, most specifically in Western culture.
Prometheus Rising
by Robert Anton Wilson
Based upon Timothy Leary's 8-circuit model of the mind operates, this book one of the best forays into understanding how consciousness works and how it may be changed. High-minded and entertaining, Robert Anton Wilson helps the initiate know what it REALLY means to change consciousness.
"I feel so much gratitude for the experience of engaging in the PMT apprenticeship and having the opportunity of learning the traditions of this beautiful path. Daniel (Moler) imparted information in a way that was both personal and understandable; he was in service to his students providing support, clarification, and assistance during and outside of the apprenticeship weekends. I found the journeys, ceremonies, and rituals to be deeply effective and meaningful. Daniel has equal abilities of teaching and of practice; he is an example of one who truly lives the Great Work."
Amy Cheung
"Daniel Moler offers an enthusiastically informed presentation. He is dedicated to transforming the energy of the participants and devoted to the tradition."
Claire B., Gardener
"I highly suggest embarking on the profound journey of the PMT Apprenticeship! This year-long "course" will change your life for the better; you will learn a great deal about yourself and look upon life with a deeper appreciation and universal understanding. Daniel's passion, knowledge, and true love for the PMT exudes thru his teachings. His combination of teaching styles, tools, and interactive activities will keep you captivated throughout the year and sharply educate you on this divine lineage. The love and support you will receive from Daniel (Moler) will touch upon your soul. His pure love for the work that he does and his overall compassion for his students is second to none."
Taryn Kelly