"Shamanic truths are that everything is alive, has consciousness and spirit, and can interact with every other animate being. Everything is connected and we are all One. Our well-being depends on our spiritual harmony with all forms of life seen and unseen. Through the shamanic arts we can develop more reverent and reciprocal relationships with the forces and beings of the Spirit Realm. Then we come into right relationship with our animate Universe which creates balance and harmony within us, among us and in all worlds.
Shamanic wisdom teachings help us to grow, transform and deepen our connection to all of Creation. With shamanic initiations we can reconnect to the sacred within and around us as we expand our consciousness and experience dimensions of reality beyond what we can ordinarily perceive. We can all learn the shamanic arts to assist us in restoring health, harmony and well-being to ourselves, our families, our communities, and Mother Earth and her children, the plants, animals, minerals and our fellow humans. Then magic and miracles can happen."
Cynthia Greer
Cynthia Greer has been a shamanic teacher, healer and ceremonialist for many years. Since 1998 she has apprenticed deeply in the shamanic arts with don Oscar Miro-Quesada, the Unseen World and the Pachakuti Mesa, a sacred altar for self-exploration, empowerment and transformation. Cynthia has also worked with many other revered shamans and indigenous healers from South, Central and North America where she has traveled extensively.
As a Sanctioned Teacher of the Pachakuti Mesa Tradition (PMT) Apprenticeship Program, a contributor to its creation, and a member of the PMT Teacher Mentorship Council, Cynthia is committed to sharing shamanic wisdom, initiations and healing practices. This helps people transform and deepen their relationships with Mother Earth, Nature, the Unseen World, the Elements, the Cosmos and All That Is. With over 25 years of experience teaching adults, she knows the best teaching is from the heart and the best learning happens when it's fun. Having experienced firsthand that everything is alive and that we are all One, Cynthia brings a sense of wonder, deep gratitude and love for all beings. Her passions include bringing Spirit into form, helping people transform and loving service to Mother Earth and her children.
Cynthia lives near Asheville, North Carolina, among the oldest mountains in the world, where she offers shamanic training, private healing sessions and Earth-honoring ceremony. Her teachings include introductory, intermediate and advanced shamanism and mesa work, and the Heart of the Healer community's apprenticeship program, The Pachakuti Mesa Tradition: Cross-Cultural Shamanic Arts for Personal and Planetary Renewal. This 5-part series offers a deep experience of the Peruvian shamanic tradition. Cynthia also teaches advanced PMT workshops, Despacho-Making, Creating Sacred Space, Working with Your Power Animals, The Shamanic Journey, Past Life Regression and Reiki.
Credentials
PMT mesa carrier since 1998.
PMT teacher sanctioned by don Oscar Miro Quesada since 2009.
Contributor to the creation of the PMT apprenticeship series 2007-2009.
Member of the PMT teacher Mentorship Council since 2014.
Reiki Master since 1996.
"Cynthia Greer brings a wealth of experience and teachings incorporating personal examples to reinforce key points of the tradition. She truly welcomes initiates with an open and compassionate heart. It is a pleasure and honor to sit with Cynthia and learn from her."
"Oh goodness, what a weekend. I feel profoundly touched by the beauty of this ancient tradition… I felt so filled with the energy of our southern brothers and sisters. Cynthia [is] so gentle, accepting and encouraging. Amazingly attentive and considerate… [She] held us all with such care and enthusiasm and love for Pachamama."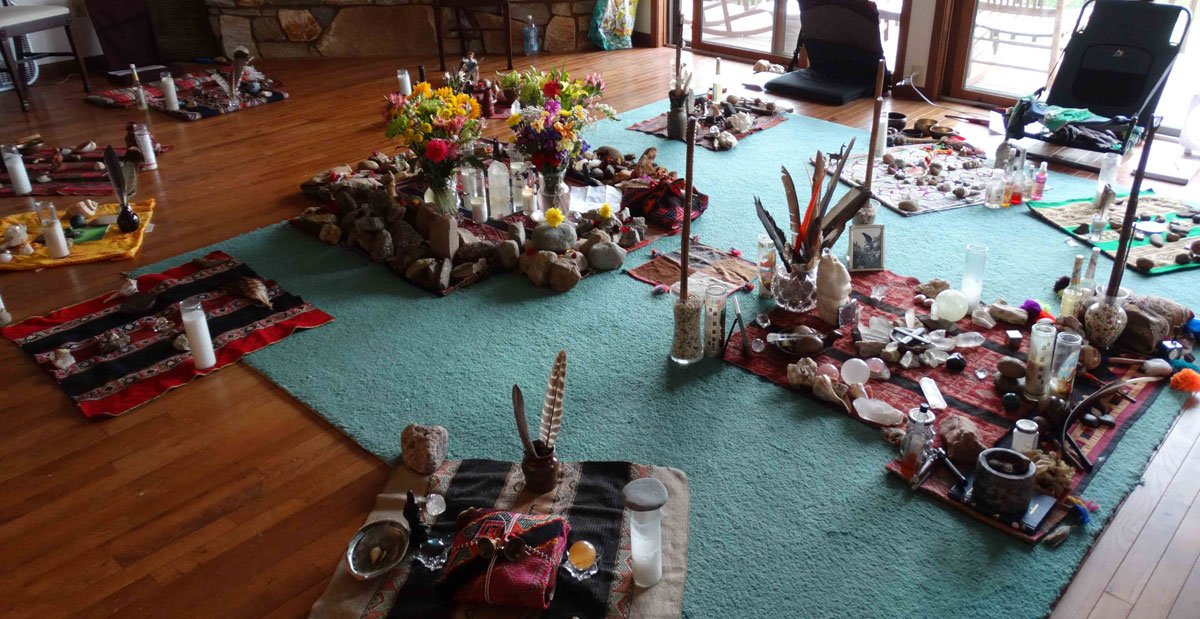 "The Call to Heal was a powerful and profound experience. Cynthia Greer is an exceptional teacher whose loving energy and enthusiasm radiates in bright waves of light and love. The group who gathered for the weekend formed a close bond in our sacred circle which I cherish and deeply respect and honor. I don't exaggerate when I say that my life has changed profoundly because of all that occurred during the weekend. I am truly grateful to each and every beautiful soul who shared in the experience. What an extraordinary journey we are on."
"Cynthia is an incredible teacher, leader and person. She made us all feel comfortable and welcome. She was able to help us find our own answers by gently guiding us along the way… [The Apprenticeship Series is] a wonderful program – well structured, well-presented… I felt such a profound connection to the work and my new-found 'tribe'. Thank you, thank you, thank you."
"Thank you for your gentle and compassionate teaching. It is soooooooooo apparent that you are committed to the path and have much wisdom to share. I am grateful that you started a second hoop this year! See you in January!"
"Cynthia is so amazing, gifted and dedicated to her work. She is filled with so much love and positive energy, it is an honor and pleasure to learn from her and work with her. I am so blessed to have crossed paths with her beautiful spirit… Becoming a Pachakuti Mesa carrier has been a life-changing experience. I have learned how to honor all things and have re-membered the sacredness of all life. Cynthia is an amazing curandera and teacher. Thank you!"
"This was a profound experience of initiation, a call to heal and to awaken our hearts and awareness to the unseen world. I am relatively new to shamanism work. This experience  intensified my desire to learn – that is to transform experientially. I leave with an intention to practice daily, a gratitude practice for the earth, beginning with the tree I see out my bedroom window. Cynthia is a living example of the work. I leave feeling so blessed, so fortunate, so grateful. Thank you. I want to do the program… and I leave confirmed that this is a direction I want to follow – for healing myself and for healing the earth. Positive energy, attention to the good, the hopeful, faith – these things characterized the work. It awakened my highest hopes."