I never cease to be amazed at how the natural world is continually communicating with us, giving us signs and symbols that so directly correlate to our individual circumstances that coincidence becomes an impossibility. I have two astonishing examples of this phenomenon…which occurred on the same day!
I am currently going through a massive and multi-leveled death process, which began in the Spring, the likes of which I have not encountered since my divorce 11 years ago. In addition to my ego being dismantled, I am experiencing multiple physical issues, including the diagnosis of a thyroid condition, and now, more recently, the unexpected death of my Godfather. The theme of death is all around me.

In April I did ceremony and set intentions, consciously working with the theme of pulling out the tap root of old forms and structures, including another stratum of the patriarchy. I've done this enough times to know that there's what you think you're working with intentionally and then there's everything else that gets activated when you make your declaration. I usually move through things pretty quickly, but my guidance told me this would take some time. After a bit of my usual resistance and arguing with God (Have I died enough yet? Are we good? I have a lot of work to do…) I committed to surrendering to my death, however long that process would take.
Over the fourth of July I was in Indianapolis visiting family. On July 3, we received news that my Godfather, who is also my cousin, died unexpectedly. The tenor of my vacation instantly changed and, gratefully, I was able to extend my visit for a few days to attend the funeral and be with family who came in from out of town.
My husband and I returned, exhausted, late that following Saturday. Sunday was a day of resting, getting our bearings and integrating. On Monday morning, with some energy to finally handle a few chores, I went out under my raised deck to get the ferns in the ground that my mother had dug up and given me. My apacheta is also under my deck, which is high enough off the ground to stand under.
As I surveyed the ground for a location to plant the ferns, I saw a piece of plastic that had blown into the flowers. I reached down to pick it up and…it was a snake skin. Oh my God, a snake had literally shed its skin…at my apacheta! The line of skin came out from between two stones at the base of my apacheta and into the flower bed.
I was stunned. What an unbelievable sign from the Universe. The snake is such a potent omen and I felt the Universe was acknowledging several things for me simultaneously: to take heart, that I am in the process of transformation and to remember that on the other side of death is always rebirth; that this is a process of healing for me, no matter how much it hurts or how much despair I experience; and that my Godfather's death, as with every death, serves a greater purpose and my grief is being acknowledged.
Immediately I took a few pictures and texted what happened to my sister (whom I had stayed with in Indy).
A couple hours later, while I was tending to my flowers and vegetable garden, I saw something white at the base of one of my plants. I went over to see what it was and…once again, OMG, another undeniable sign. It was a dead rabbit. Its tail was what had caught my eye. Clearly Spirit was communicating to me! However this time, the symbology of the rabbit wasn't as apparent to me as the snake. Again, I snapped a few photos and texted my sister.
Before I could get back in the house and look up the symbolism of rabbit, my sister had texted me back with a link to the parable of the rabbit and the witch. I knew this story, but had forgotten about it. In short, the rabbit, who was once a powerful warrior, was afraid of the witch's powers and no longer wanted to be friends or see the witch ever again. The witch, who could have killed the rabbit, chose to curse him instead, saying "From this day forward I lay a curse on you and your tribe. From now on you will call your fears and your fears will come to you." The rabbit is now known as the fear caller.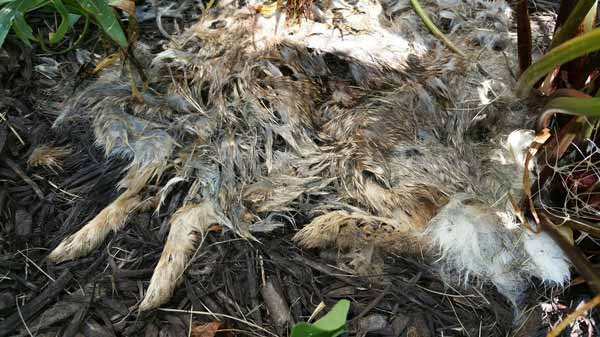 Again, I was stunned. It so perfectly described what had been happening to me during my death process. Just that very morning while I was lying in bed, my mind had been doomsdaying, running scenarios to their worst conclusion and berating my weakness. I actually said – in my head – "Steph, you need to just get your journal and write down all of your fears so you can get them out of you and start dealing with them."
And then the rabbit got my attention a mere few hours later.
You just can't make this stuff up!
As shamanic adepts, we deal in the realm of the non-physical, the esoteric, the intangible, the symbolic. Yet Spirit is there at every turn helping us to feel and see the effects and results of the work we do, giving us physical manifestations, confirmation, validation and direction. If you are looking for a sign, if you are asking Spirit to give you guidance or confirmation, you'll receive it, one way or another. The Universe is always conspiring to bring us exactly the sign we need. And sometimes, they come in twos.
Stephanie Red Feather
Featured Contributor
Through private sessions as well as numerous workshops, products and initiatory processes, Stephanie Red Feather supports deep transformation and spiritual growth. Her specialties include shamanism, divine feminine mysteries, thriving as an empath and embodiment mysteries.
Stephanie is a Magdalene High Priestess and facilitator of the Priestess Process™; a certified Shamanic Breathwork™ facilitator and ordained shamanic minister through Venus Rising Association for Transformation; a certified spiritual healer through the International Assembly of Spiritual Healers and Earth Stewards; and a shamanic practitioner in the Pachakuti Mesa Tradition for over 10 years. She holds a Masters Degree in Shamanic Intuitional Practices and is working on her Doctorate in Shamanic Psycho-Spiritual Studies.
In addition, Stephanie is a writer and prolific creator of programs and materials including Earth Embodiment School™, The Shamanic Dance of Transformation, Soul Check-In, and How to Make Decisions With Your Heart: A Guided Meditation. She is currently authoring her first book on being an empath.