Rebecca Snyder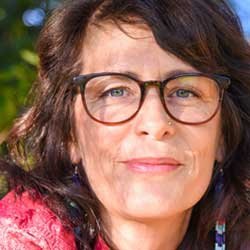 Rebecca "Firehorse" Snyder is an acupuncturist and healing artist with over 20 years experience, skilled in bodywork, mindfulness practice, and movement. Holding numerous certifications, she is most grateful for her five year apprenticeship in Tai Chi Chuan/ Qi Gong with Master Tai Peter Hom of New Orleans. Rebecca holds a BA in Asian Religions and Art History from New York University.

A long time spiritual seeker, Rebecca has studied and grown her spiritual path through the guiding light of many wonderful teachers and the study of numerous spiritual traditions, including study abroad in Nepal of Tibetan Buddhism at age 20. Dance, music and ceremony hold important places in her personal healing journey and continue to be treasured vehicles to express a passionate reverence for life. Rebecca has finally found her spiritual home in the Pachakuti Mesa Tradition of Cross-Cultural Shamanism, under the tutelage of don Oscar Miro-Quesada.
Stay Connected




Community Directory


Join
or
Find
---

Like & follow us
---
Sign Up for THOTH's Newsletter
What is your Spirit Animal?
Take this FREE Quiz

and receive a powerful activaton from don Oscar

---